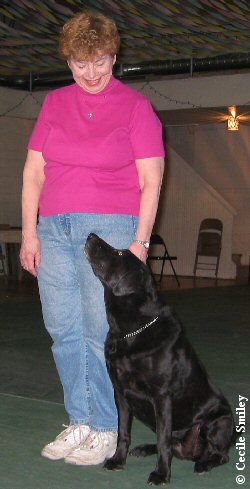 PET THERAPY DOG
click on this link for information
Members of the Great Falls Dog Training Club are active with "therapy" dogs in our community, visiting schools, nursing homes, assisted living residences,  retirement homes, and the Great Falls Public Library.

Join us in this heart-warming activity.  Many of the people we visit are now living without a dog for the first time in their lives. They miss the companionship and unconditional love a dog offers, and just want to reach out and pet the head of a "gentle friend".
.    If you are interested in more information about  Therapy Dog certification, you can contact the Alliance of Therapy Dogs (ATD).  1-877-843-7364 or email office@therapydogs.com   website:  www.therapydogs.com   .One of our club members, Debbie Heim, is a Tester/Observer for the ATD.   Her phone number is 1-406-788-4521, email debh@mtsurprise.com
Qualifications for ATD begin with a friendly dog, any breed or mix, and an owner/handler who has a desire to share it with those who are no longer able to own a pet, or are in a health facility separated or away from their pets.  Dogs must be at least one year of age to be tested and observed.