Level I - Beginning Obedience
Are you looking for the opportunity to learn how to have a content, confident and obedient dog while you become a content, confident and satisfied dog owner?
Then
Level I - Beginning Obedience
is for you!
Our goal is for you to have a friendly companion that is welcome in public.  This course is held in an indoor class setting so you and your dog learn with other dogs and handlers the basics of dog obedience. Classes are taught by volunteer club members with decades of experience using proven methods in successful dog training.  Tools used in this class are a chain slip collar provided with registration, a rope lunge line (also provided), and a 6-ft leather leash which can be purchased from the club.  All classes at this level are performed on leash.  Classes begin by encouraging your dog to watch you and focus on your instruction while learning basic heeling skills.  Each week new instruction is presented covering such commands as the automatic sit when heeling, the sit/stay, the down/stay, the stand/stay and the recall or "come" command.  Other commands presented in the quest for a reliable dog companion are "off" , "leave it:", "no bark", "watch me", "up" and "wait".  Your dog learns by repetition and praise, repetition and praise, etc... Your job is to practice with your dog on a daily basis the commands learned each week culminating in graduation after 8 weeks of instruction.
Class Requirements:
Age of Dog -  should be 5 months of age or older.
One person in your family or household should attend the training sessions and work with the dog on a daily basis.  Class is 1 hour of instruction once a week for 7 consecutive weeks.
Pre-registration is required as well as payment for the class.  Cost of class is $100.00. (DIscounts are available for shelter adoptions & 2 dogs in a household)
All dogs must have current up-to-date immunization records.  Bordatella (Kennel cough) vaccination recommended. 
Classes are limited to 12 dogs and are held at the Ursuline Centre Gymnasium located off Central Avenue and 23rd Street in Great Falls.
Females in season cannot attend class although the handler is encouraged to attend class and gather the instruction for practice at home.
UPCOMING CLASSES START DATES
The first class will start with collar fitting and long line demonstration. 6-week one hr sessions after that.
Various Class times subject to change.
              
Fall 2023 :  Tuesday,  12 Sep 5:30, 6:30, 7:30 pm
Winter 2024 : Tuesday, 9 Jan 5:30, 6:30, 7:30 pm
Spring 2024 : Tuesday, 12 Mar 5:30, 6:30, 7:30 pm
Contact Marie Gamradt,
Training Director
, for questions and registration.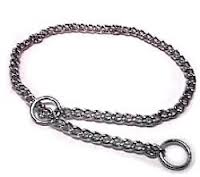 ,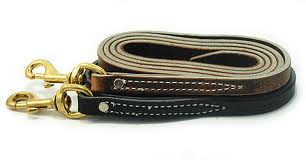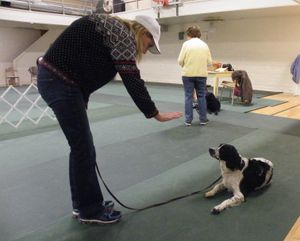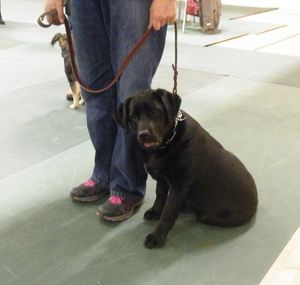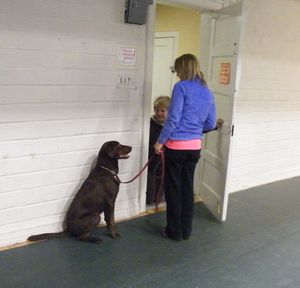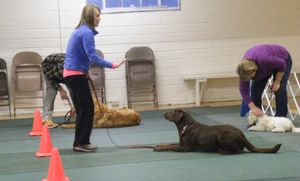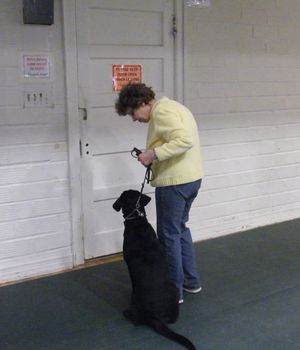 Level I - Beginning Obedience Class in Action